Hier mal ne Maschine die ich heimlich kaufte als Michl im Urlaub war.
Besitzer: Arne
Modell: LIS 125 (italienisch)
Name: Michls Roller
Farbe: Original Blaumetallik
Motor: Zuerst 125 original, dann Stage 4 200, jetzt original Jet 200 / Clubman
Top speed: 110
The Suspect
So back in spring 2003 Michele was out in Australia to get some well deserved vacation time in. I, on the other hand, was stuck here in Germany looking forward to the coming season of scootering. So one evening Marcello calls up and says he spotted this pretty nice Lambretta on Jockey's web page. I looked it up and knew I had to have it!Since Michele was out there was no way for her to keep me from buying. Meanwhile, the Lambretta is pretty much hers cuz it starts first kick and is basically the best daily rider (next to my T5) I've ever had. BUT it's mega slow. 70kph on bad days, 80kph on good ones. Sucks big time.

So when the large crank seal finally blew, and a total strip was looming, I decided to grab that old 200cc casing that's been flying around my garage for a year and implant the LIS internals into it. The LIS gearbox is the same as the GP200, I just needed the 18/46 front/back sprocket (luckily the LIS '67 already has a GP style crownwheel), an 82 link chain, plus the carb.

Also I thought a nice chainguide would help, everyone uses it anyway. So off the Lambretta goes into the indoor workshop (it's down to 5 degrees celcius now! Fall! Yuck!), where the toying starts.
How often do you get to work on '67 Lambrettas that haven't been totally messed with (except for some minor Italian bodgework)?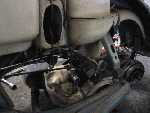 So as you might guess it's a total joy. Luckily Lambrettas are pretty good for removing the engine, you can leave all the inner cables plugged and just remove where they've been bolted to the engine. I also removed the rear wheel, which is a joyride if you have the prop-stand specialist tool. So here it is, engine dropped. Nice. Let's continue.

Quite some work to get all the way through the bare bones of the 125 casing. The blown crank seal had pretty much oiled up the entire crank shaft and (since it had been run with that seal for several 100 miles) coked up the barrel. Also fun.

And on comes the 200cc engine – all parts need to get transplanted. The chain feels a bit slack, so the guide is pushed up all the way. Let's hope this'll work out.

Here's the current state. Engine rebuilt, but still lacking silentblocks and no idea how to mount them (I hope Justin will be able to help).
Update: engine mounts have now been pulled in using a homebrewed tool. Really easy in fact, just a very long bolt and 2 nuts to squeeze the engine mounts in!
The scootRS delivered pattern Mikuni carburettors was impossible to set up on the bike. I've already reverted to a standard Italian 22 mil setup (NOS!), and can't wait for the snow to melt so I can have a go.